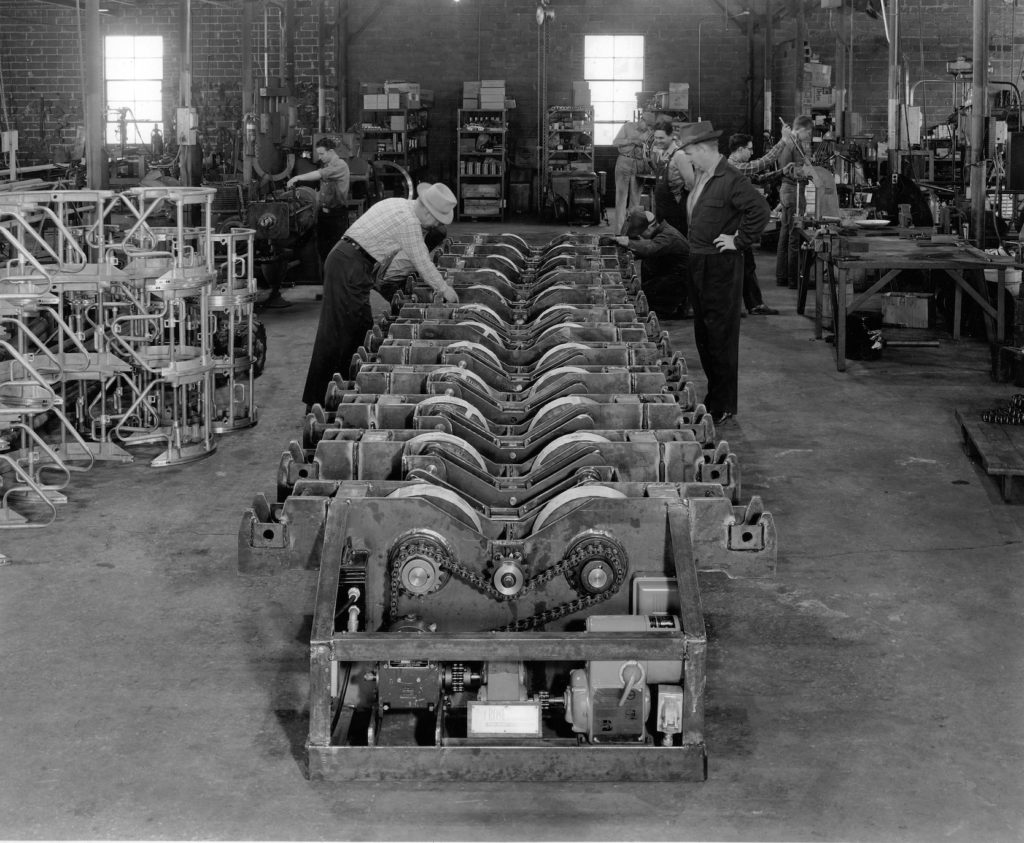 Late 40's / Early 50's Manufacturing at Sawyer Mfg.
Since 1948 Sawyer Manufacturing Company has been working with pipeliners to deliver top quality, American made equipment to help them deliver the consistent quality in their work that they pride themselves on.
When it comes to delivering top-notch welds, pipeliners understand the importance of using high-quality equipment. That's why they proudly choose Sawyer. From coast to coast and across the globe, pipeliners rely on Sawyer equipment to consistently achieve exceptional welds, project after project.
In the 75 years since, we've seen the industry change and grow; and Sawyer Manufacturing Company has changed and grown alongside it. A big part of that growth has come from listening to the welders using our equipment on the front line, and as a result our range of products has changed and grown to meet the demands and requests of the industry and our customers.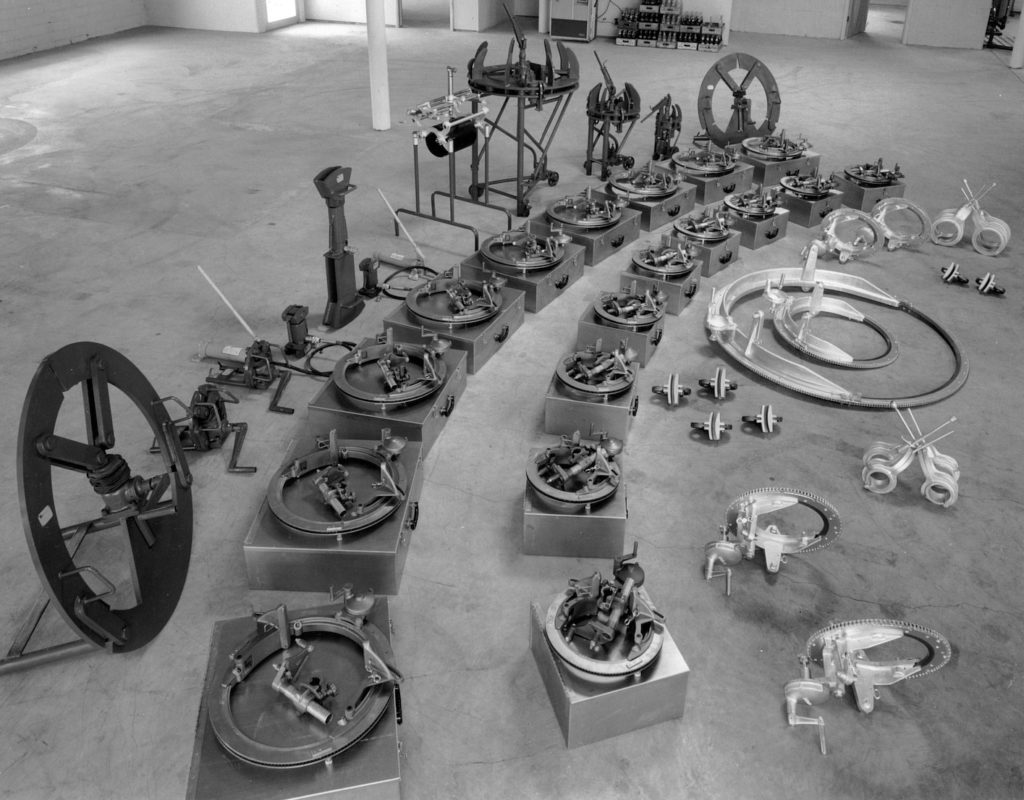 Sawyer Pipe Bevelers, Pipe Clamps, and Auxiliary Equipment in the 80's
The Sawyer Saddle Machine is the latest addition to our esteemed range of beveling machines. This traditional Saddle machine complements our existing lineup of Quick Set and Compact units, offering pipeliners the ultimate choice when it comes to American made equipment. The Sawyer Saddle Machine is available in four different sizes, catering to popular pipe sizes ranging from 1.5″ to 20″ OD.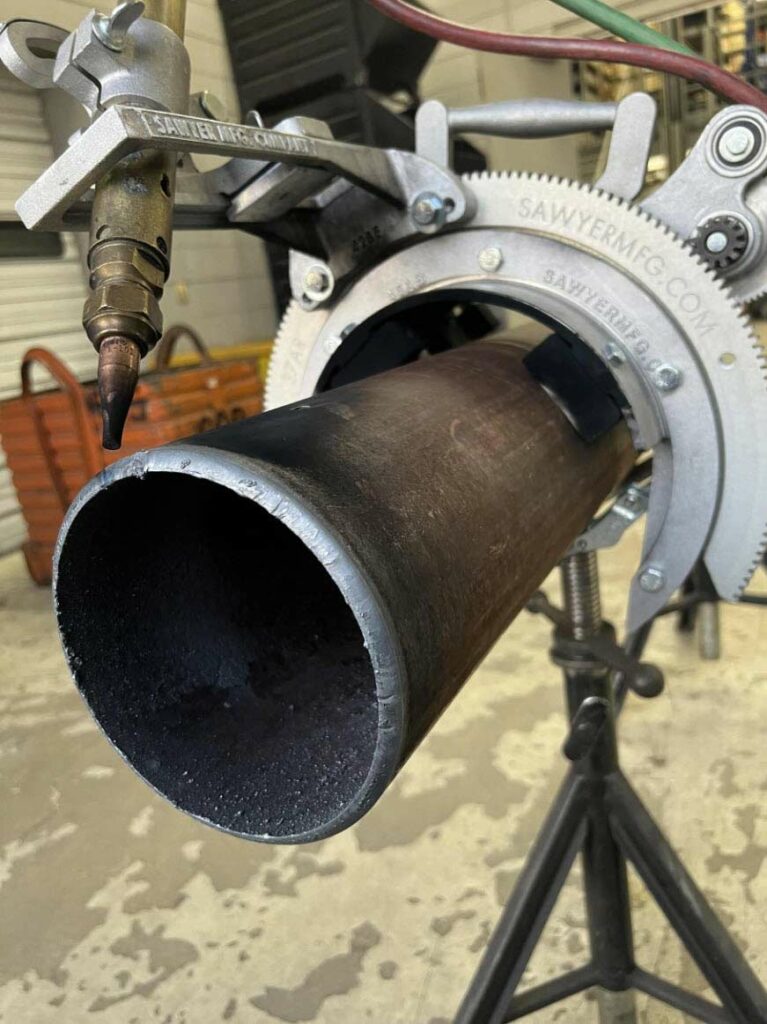 Sawyer Saddle Machine
Designed for efficiency and convenience, this machine incorporates a unique spacer system that efficiently accommodates three pipe sizes within a single spacer. For SSM machines #0 – #2, four Spacers are included per machine, enabling the cutting of a range of four distinct pipe sizes. The largest machine, #3, is equipped with eight spacers and can cut five specific sizes of pipe.
Built with lightweight yet durable cast aluminum, these machines feature a bolt-together frame that facilitates easy maintenance and servicing. Each machine is equipped with the Classic Torch Arm, known for its ease of adjustment to achieve the desired angle. Moreover, it can be effortlessly moved to and from the cutline, effectively preventing blowholes and ensuring a smooth cutting process.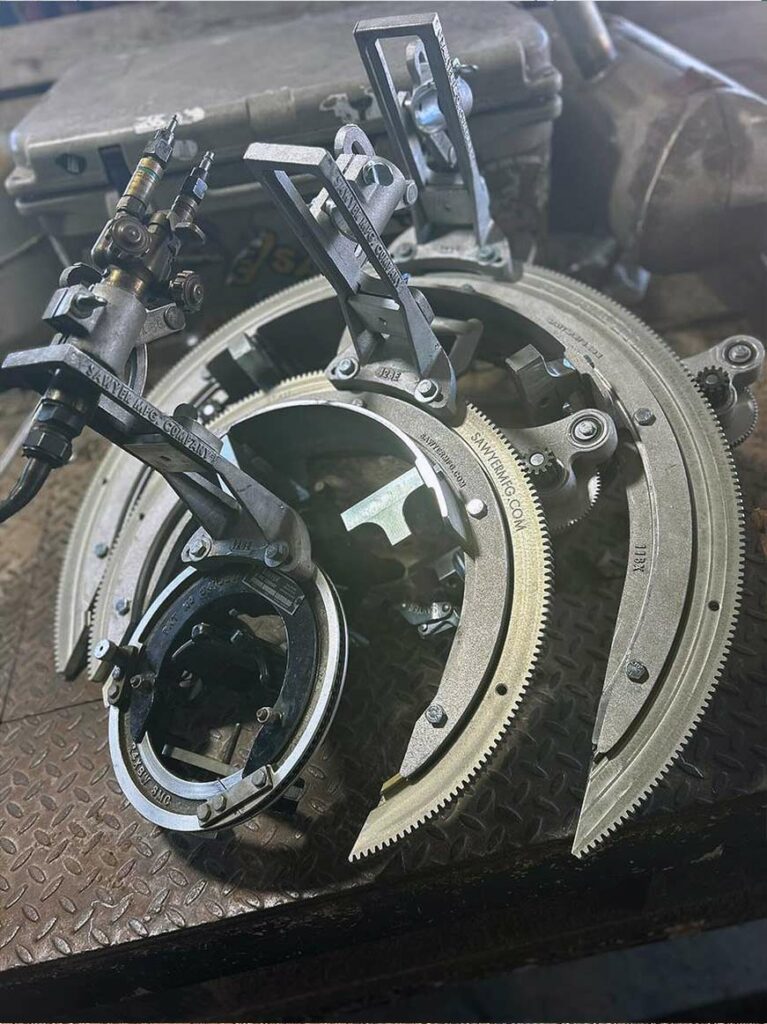 Sawyer Saddles and Quick Set Beveling Machines
Whether it's the heavy-duty durability of the Compact unit, the ultimate adjustability of the Quick Set machine, or the smooth travel and traditional open frame design of our new Sawyer Saddle Machine, pipeliners can have full confidence in the exceptional build quality that they have come to expect from Sawyer pipe beveling machines.
With our expanded range of beveling machines, pipelines now have unparalleled options to choose from, tailoring their selection to meet specific project requirements. Sawyer continues to deliver cutting-edge solutions that empower pipeliners to achieve superior results with utmost precision and reliability.
For the past 75 years, quality has been the cornerstone of our manufacturing ethos. Since our inception, we have proudly manufactured our American made equipment in Tulsa, Oklahoma. This allows us to meticulously craft every unit, ensuring that pipeliners receive nothing less than a tough, durable, and smooth-traveling machine that provides the best possible preparation for their welds. Our commitment to quality extends to proudly offering American-made equipment for proud American pipeliners.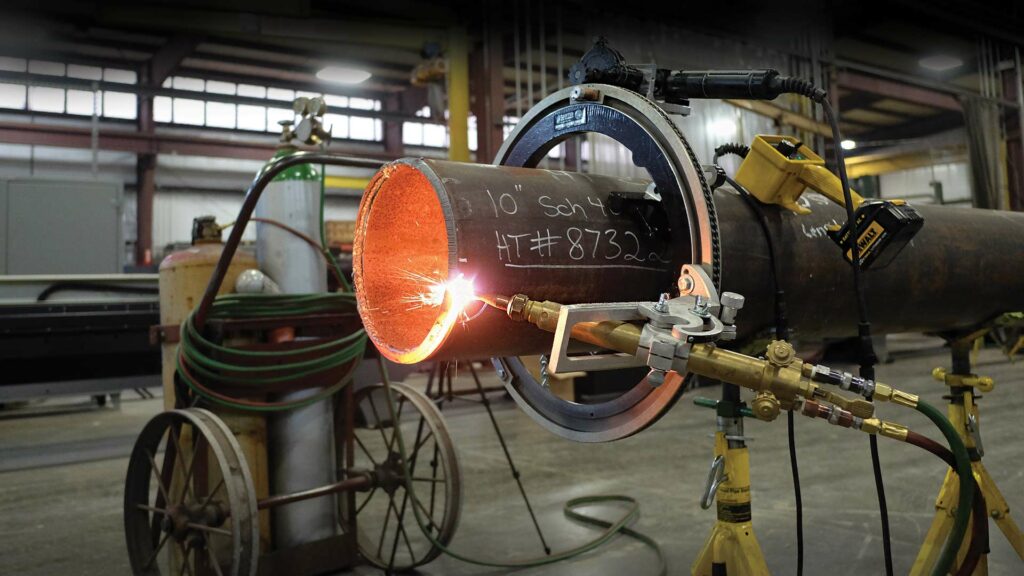 Motorizing Kit on a Quick Set Beveling Machine
In the dynamic and ever-changing US pipeline industry, growth and adaptation go hand in hand. As the industry evolves, so does our equipment. One recent example is our motorizing kits for all Sawyer beveling machines. We have introduced a powerful brushless motor to drive the bevelers that pipeliners have relied upon for decades. Alongside this motor is a control unit that can now be powered not only by 110V mains power but also by a 20V DeWalt-style Li-Ion battery pack if needed. This means that pipeliners can use their units uninterrupted, even in environments where no mains power or generator is available. By keeping one battery on charge in their truck while using a second one on the controller, Sawyer Manufacturing Company's motorized units are now suitable for use even in the most remote locations.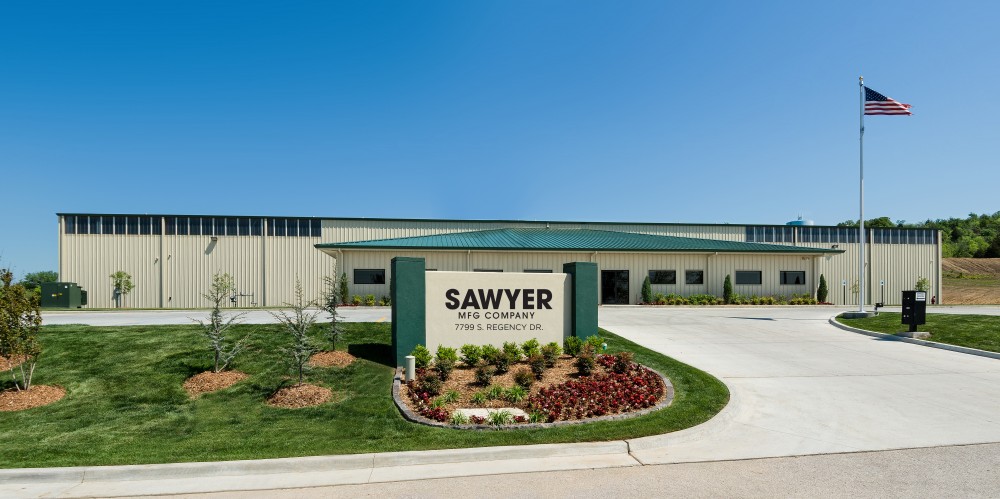 Our 90,000 sq. ft. facility in Tulsa, Oklahoma
Since 1948, Sawyer Manufacturing Company has remained a family business. We take immense pride in what we do, knowing that our equipment is trusted and used by pipeline professionals who take pride in their work. We value the feedback and insights of the men and women on the front lines of the pipeline industry who rely on our equipment to consistently deliver exceptional results. We adapt our equipment to meet the ever-changing standards of the industry, and we accomplish that right here in the USA.
As the American pipeline industry has grown significantly over the years, so have we. Our growth is a testament to the strength of our roots, firmly planted in Tulsa, Oklahoma. We welcome pipeliners who are interested in witnessing their equipment being made firsthand, as our doors are always open. Serving the pipeline industry with pride has been our mission for 75 years, and we look forward to continuing to do so with unwavering commitment.