Power and Precision – Without The Plug
For years Sawyer Crawlers have been synonymous with accuracy and durability for pipe fitters across the world. Motorized Crawlers further enhanced this accuracy by removing the need to manually drive the machine; allowing operators to set the correct, consistent speed and generate a smooth cut all around. These motorized units have, however, always relied on the operator having access to a reliable 110V/220V power source to be able to operate.
No power supply? No problem. Just attach any 20 volt DeWalt style Lithium-Ion battery to the Yellow Box housing and your Crawler is ready for motorized use in any environment. No loss of power when compared to plug in operation and up to 6 hours continuous cutting time from a single battery charge*.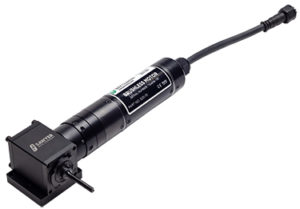 We didn't stop there, however. This isn't an existing kit with a bolt on battery. Sawyer engineers have listened to feedback from welders and pipefitters across the world and we've completely redesigned the internal features of the motor kit; all while maintaining that instantly recognizable and intuitively operated Yellow Box that you all love. The motor is a completely new brushless design which significantly improves efficiency and durability while reducing wear and maintenance requirements and increasing motor lifespan. The Yellow Box components have also received an update to offer increased durability.
The plug is no longer a requirement for a Sawyer Motorized Crawler, but it's still there if you need it. An A/C Adapter is still included with the kit as standard, and the unit will operate from mains power if required. For usage with the battery, the adapter is simply removed and stored by the operator, and a battery clipped into place. Forgot your battery, or had your generator fail? Not a problem, simply pick up a Lithium-Ion battery from any local hardware store and you are back on the job in minutes.
Working on multiple sites which operate on different voltages? Need to move from a 110V work site to a 220V one?  Not a problem with the new Battery Ready Motor Kit. This unit can be operated from either 110V or 220V without the need to purchase a separate kit for each voltage thanks to the updated internal electronics on this new kit; creating a much more versatile unit for those working with both voltages.
At Sawyer Mfg Company we pride ourselves on the relationships we maintain with welders, pipe fitters and equipment operators across the world; and it's these relationships which have yielded the feedback that led to the creation of these battery powered Battery Ready Motor Kits – an industry first.
The new Sawyer Battery Ready Crawler – works anywhere your truck can take it
*Internal test results from Sawyer Mfg Company have shown the new Motorized Crawler to be capable of continuous cutting for in excess of six hours when used with a mid-range DeWalt 20V battery.