We are proud to announce the release of our newly designed Sawyer Saddle Machine.

Listening to our customers
Sawyer Manufacturing Company has been working with pipeline welders since 1948. In that time, we've seen the industry change and grow, and by listening to the welders using our equipment on the front line our range of products has changed and grown to meet the demands and requests of the industry and our customers.
Welders who are proud to be using quality equipment to deliver a quality weld choose Sawyer. All across the country – in fact, all across the world – pipeline welders are using Sawyer equipment to help them deliver the quality welds that they pride themselves on.
We listen to the men and women out there using our equipment every day, and that feedback results in us being able to deliver exactly what they want and need. They told us that they loved the quality craftsmanship and durability of the Quick Set and Compact, some also told us that they'd like to see those features in a traditional Saddle design, rather than the full-ring design of the current units. And we listened.
Giving our customers what they want
Sawyer Manufacturing Company is proud to announce the release of our newly designed traditional Saddle machine. The SSM (Sawyer Saddle Machine) incorporates all the familiar features welders were asking for, with the trusted quality Sawyer puts into every product.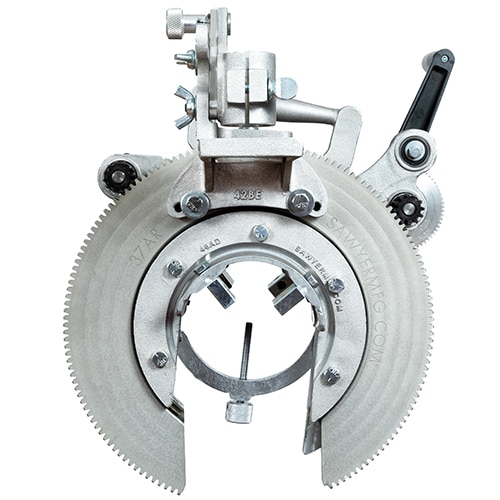 The new SSM comes in four different sizes, to cover the popular pipe sizes from 1.5" to 20" OD. In this machine, pipe sizes are adjusted with spacers that are efficiently designed to accommodate three pipe sizes within a single spacer. SSM machines #0 – #2 come with four Spacers per machine and can cut a range of four distinct pipe sizes. The largest machine, #3, comes with eight spacers and can cut five specific sizes of pipe.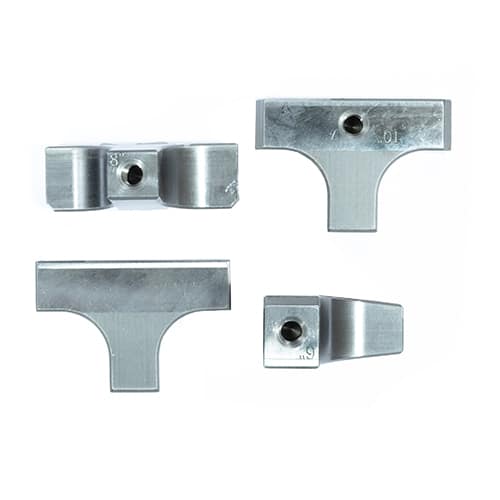 These lightweight machines are built from cast aluminum and feature a bolt-together frame that is easily repairable. Each machine comes standard with the Classic Torch Arm which is easily adjustable to the desired angle and can be moved to and from the cutline to prevent blowholes. Setup is easy with the SSM's open-frame design, simply place over the pipe and secure with a locking boomer.
We firmly believe that our new SSM has the smoothest travel of any unit available on the market, and of course, customers can be sure of the heritage of the machine with it being built right here in Tulsa, OK. A proudly American made product for proud welders.
Designing and manufacturing the product under our own roof has allowed us to exhaustively test every aspect of this new Saddle machine. Each machine is calibrated and checked for quality assurance before leaving the facility.
Proudly Made in America

We are pleased to say that the Sawyer Saddle Machine offers pipefitters and welders everything they love about traditional Saddle machines, with the added benefits of Sawyer's trusted heritage, industry-leading sales and service team, and the smooth cut they know and expect from us. Everything about this product has been designed, manufactured, and packed right here in our 75,000 sq. ft. manufacturing facility in Tulsa, OK.
Everyone wants choices and of course, we are still offering the popular Quick Set and Compact machines as well, allowing customers to now pick the best machine for their needs. Whether it's the infinite adjustability of the Quickset Arms, the rugged and time-tested durability of the Compact on the mainline, or the open saddle design of our new SSM – no other company offers you more choice and flexibility than Sawyer
Sawyer Manufacturing Company – providing welders and pipefitters worldwide with the equipment they want, with the heritage, durability and smooth cutting they've come to expect from us over the past seven decades.