Sawyer Spotlight: Grinder Holder
Working together to build better equipment
In the Fall of 2013, Sawyer Manufacturing became involved with a program offered by Oklahoma State University in partnership with the Oklahoma Manufacturing Alliance to help Oklahoma manufacturers design new products. The result was Sawyer's Grinder Holder.
OSU students created the designs and drawings of the holder, and the prototype was built in the Sawyer shop and sent to Sawyer ambassadors in the field for extensive testing. Tweaks and additions were made to the Grinder Holder according to this testing and feedback received from ambassadors. After all the work from OSU students and the Sawyer team of employees and ambassadors, the final product became the preeminent device for keeping tools visible and conveniently within reach while still safely out of the way.

Convenient Safe Storage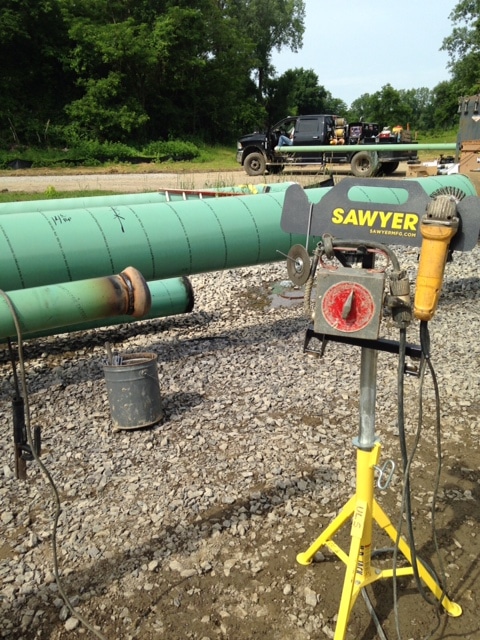 The Grinder Holder stores two grinders, a Rheostat box, and additional tools in one compact, convenient location, and for even more storage options, the user can secure frequently used tools with the powerful magnet riveted to the steel frame.
Multiple mounting options are available, including a 1-3/8" pipe stand mount and four powerful rotating magnets for flat surfaces or pipe 3" and larger.
Adding to the extreme portability and flexibility of the Grinder Holder is the integrated easy-carry handle, which makes transferring tools to the next weld joint a breeze.
Since nobody appreciates equipment that fails prematurely, Sawyer has made sure the Grinder Holder will stand the test of time. The rugged steel construction with corrosion-resistant powder coating ensures maximum durability and years of dependable service in the field.
For the ultimate in tool storage and transportation, look no further than the Sawyer Grinder Holder.