Oxy fuel cutting has been around for more than a hundred years, and little has changed in the process since that time. The invention revolutionized the cutting and welding industries, and ultimately led to the development of today's cutting torches, tips, flashback arrestors, etc. which have resulted in a much safer and more efficient way of cutting metal. While the process was originally conceived as a solution for cutting thick steel plate, it has been widely incorporated in the pipe cutting industry over the past century.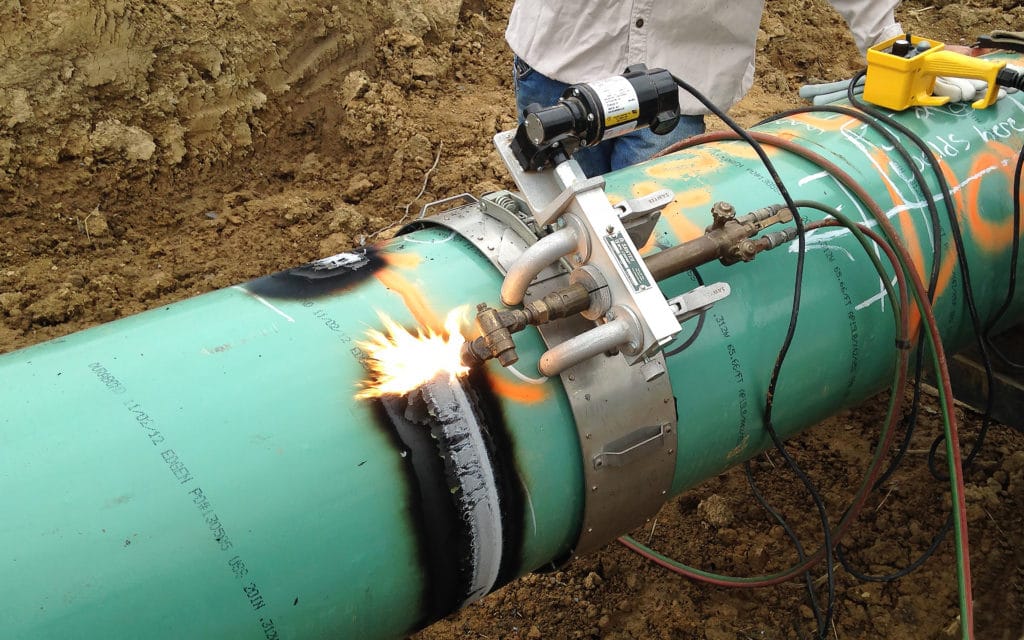 Cutting pipe with a band beveling machine with an oxy-fuel torch
Pipe Beveling Machines
Although the cutting process itself hasn't changed, the cutting machines which have been developed for the pipeline industry certainly have. From small chain driven manual units, to fixed plant CNC plasma cutting machines. The last hundred years have seen a plethora of varied cutting units enter and leave the market place; with varying degrees of popularity.
What's most interesting about this evolution in cutting however, is the speed in which it has progressed in certain markets compared to others. For example, walk into a pipeline construction site in Oman and chances are you'll see an abundance of workers beveling and prepping pipes manually with grinders. Conversely, walk into a similar site in China and split-frame bevellers have long since taken over from oxy-fuel as the preferred method for cutting pipe. Head off the coast of Europe to the piling vessels and you'll see large diameter oxy fuel machines making those cuts. Over to the US and out on the right-of-way you'll find pipe fitters almost exclusively using Crawler and Saddle type oxy-fuel machines to prep their pipes. Different markets have developed at different speeds and with highly disparate preferences; largely due to whether it is the welders and fitters themselves, or the construction company purchase managers, who make the decision on which solutions to use. As such, any company looking to offer cutting solutions for pipeline on a global scale needs to have a suitably diverse range of machines to satisfy the varied local market demands.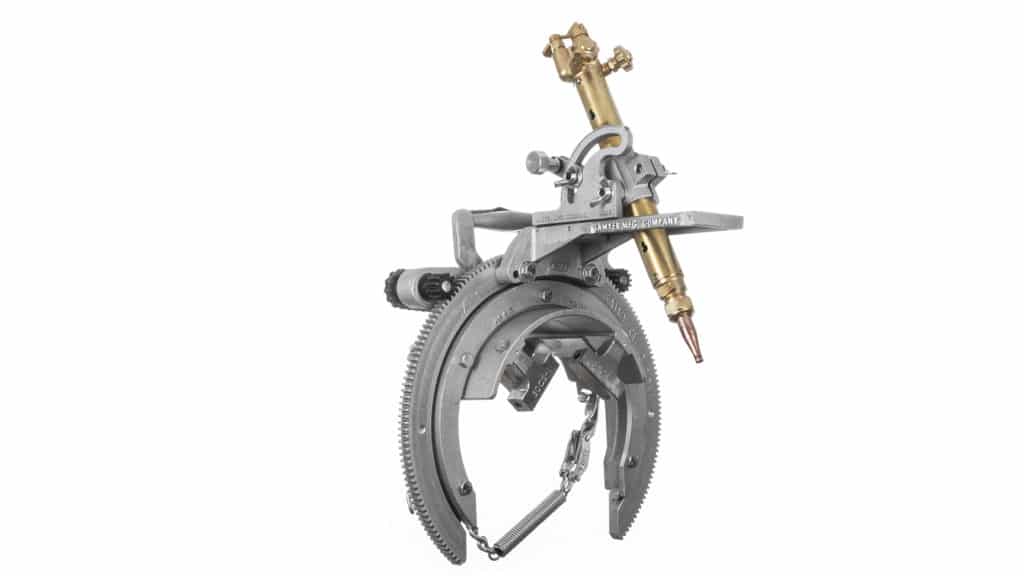 Sawyer Saddle Machine – Quick Set Beveling Machine – Compact Beveling Machine
With a cutting process largely unchanged for over a century, the onus has naturally been on the equipment manufacturers to develop and modernize the torch carrying units for the oxy fuel cutting processes, to complement the increasingly challenging materials and specifications used by modern pipeline contractors. Units such as Sawyer Mfg. Company's Band Crawler have been popular for many years due to the units negating the need for out of round compensation – something which has been an increasing problem in the pipeline industry in recent times. Conversely, in markets which have always favored small chain beveling units such as the Koike Picle or the Sawyer Chain Beveling Machine, there is a reluctance to embrace machines such as Band Crawlers because operators are largely averse to change.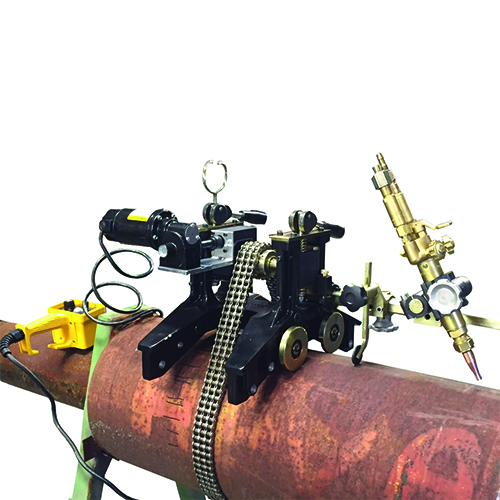 Mx1 and Chain Beveling Machine
Such situations have led to equipment manufacturers often looking to develop new equipment to suit local market conditions, much as Sawyer Mfg. Company have done with the development of their MX1 Chain Cutting Machine. This unit is the only true heavy duty oxy fuel chain beveling machine on the market; and specifically designed to cope with larger, heavier pipe fitting requirements with out-of-round compensation as standard. Despite the larger appearance and bulkier frame, the unit still maintains the traditional chain fitting design that operators are familiar with, allowing the operator to continue using a design they are familiar with but one which is now much more capable of the performance required to bevel modern, larger diameter pipes. It's this symbiosis between pipe fitter and manufacturer which has allowed companies like Sawyer Mfg. Company to thrive in this market place almost since the origin of oxy fuel cutting; working with welders, pipe fitters, distributors and contractors across the globe to develop a varied range of cutting equipment specifically tailored to each global market zone.
Naturally it isn't just oxy-acetylene cutting that is used in the pipe cutting and beveling industry. Propane is very popular in certain markets; in particular the Russian Federation. There are also a lot of contractors using plasma cutting for their cutting requirements due to the increased cutting speeds offered compared to the traditional oxy fuel method.
Plasma Cutting
Beveling Pipe with a plasma torch on a Sawyer Saddle Machine
Although often considered a modern way of cutting metals, plasma cutting has actually been around since the 1950s. It wasn't widely accepted by fabricators until the 1980s, however, as the price of the gases required was prohibitive and the technologies were not yet available to match acetylene cutting for cutting depth capability. The invention of computers and electronic CAD systems improved the popularity of plasma cutting, but even today plasma cutting is often still considered to be a prohibitive expense when compared to oxy-fuel options available; and in particular the initial investment cost to change from an oxy-acetylene set up to a plasma one.
Market Compatibility
Despite this, in order to continue to make equipment suitable for all global markets and cutting preferences, manufacturers of pipe cutting equipment have had to ensure that their equipment is compatible with the preferred cutting methods in all markets. While this isn't difficult for oxy-acetylene and propane markets, due to the fact that cutting torches for both gases are typically the same size, this isn't true for plasma cutting set ups. Due to the larger size torches required for plasma cutting, and the requirement to run at a higher speed than for oxy fuel cutting, companies have had to develop a range of plasma torch holders and motor kits to allow their units to be compatible with whichever cutting method is specified by the end user. One such example is the new motorizing kit released by Sawyer Mfg. Company which not only allows existing Crawler and chain cutting machines to be upgraded to run off a cabled power source at plasma speeds, but also can be ran from a standard 20V Li-ION battery pack; increasing portability of the units for cutting in more remote locations.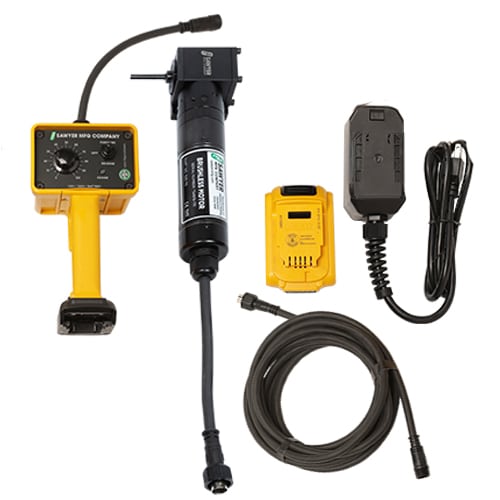 Battery Ready Motorizing Kit for Sawyer Beveling Machines
Of course, in 2023 flame cutting is not the only option available to fabricators needing to bevel pipes. Mechanical pipe cutting has become the favored method by many pipe spool and fabrication facilities due to the high output these machines are capable of, and the machined finish they present. From fixed plant lathes and pipe facing machines to semi portable plant equipment and then highly portable split-frame machines, there are solutions for most requirements in the mechanical cutting market.
Yet there are factors which prevent a large number of contractors from switching from oxy-fuel to mechanical cutting. The two biggest factors are the initial investment cost, which can be staggering when compared to setting up an oxy fuel cutting system, and the limited OD cutting range that the majority of mechanical options can deal with; often requiring a completely separate unit to be purchased if the pipe size being worked on is outside of the capacity of the current machine. As such, we still see flame cutting and bevelling being used in most pipe fabrication facilities across the world due to the hugely flexible operating parameters they are capable of dealing with.
Cold Cutting
There is, however, one specific pipe cutting requirement for which flame cutting can never be used; cold cutting.


Excalibur Cold Cutting Machine
For pipeline repair, or decommissioning jobs, contractors are often faced with situations where they need to cut a pipe or vessel which still contains flammable material such as gas or oil. In these situations it is not possible to cut using flame, and so there are specific machines known as cold cutting machines for these circumstances. Machines like the Sawyer Excalibur can cut and bevel a pipe with no risk of spark or flame, meaning that repair and decommissioning work can be carried out easily and efficiently. Any pipe size from 6" upwards can be worked on due to the variable chain driven operating system, and the ATEX certification gives operators the confidence they require that the machine is suitable for use in explosive environments where flame cutting would be calamitous.
Situations like these highlight the need for alternatives to oxy fuel cutting methods when operators are presented with certain conditions. There are a wide range of companies around the world who are set up to deal with critical situations such as cold cuts, hot tapping, line stops, etc. These are a natural requirement as existing pipelines require replacement, decommissioning or sectional repair. Whilst still falling under the umbrella of 'pipe beveling', the fact remains that for the vast majority of beveling applications globally, flame cutting remains the preferred method due to its unsurpassed flexibility and cost-effectiveness.
Going forward
Markets are ever changing, and pipes are getting heavier with more challenging materials to be cut. Despite this, oxy-acetylene, propane and plasma cutting machines continue to evolve to allow operators to maintain or improve their productivity, despite the increased challenges the materials can present in today's market.
The cutting process hasn't changed much in a century, but for almost 80 years Sawyer Mfg. Company has been at the forefront of developing machines to facilitate the cutting process, and will continue to do so for many years to come.