25 & 50 Ton Tensile Tester
Weld testing is a vital component of any welding job. Whether using destructive or non-destructive methods, these tests verify the integrity and quality of welds as well as certify welders' abilities. Without weld testing, safety is compromised, and as a company firmly committed to safety, in the products it manufactures and the ways they are manufactured, Sawyer should be first on the list when searching for weld testing equipment.
Sawyer's 25- and 50-Ton Tensile Testers fit into the category of destructive weld testing equipment and offer the ability to conduct guided bend and tensile tests. These testers are portable and are ideal for shop or field use, performing either API or ASME tests in mere minutes.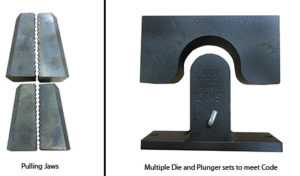 For weld certification and qualification, Sawyer's line of weld inspection and tensile testing equipment is hard to beat, and the 50-Ton and 25-Ton Guided Bend and Tensile Testers are no exception. They provide accurate, dependable weld-quality testing, whether used in the shop or in the field. The operator of either of these strap benders can set the machine to perform either an API or ASME test in mere minutes to complete any weld certification and weld inspection needs, and the dual frame allows compression testing and tensile testing.
For even more versatility, these iron horse testers come with the Sawyer Liquid Gauge System and Enerpac Hydraulics, allowing them to accurately perform tests up to 51,500-pounds for the 25-ton model and 110,500-pounds for the 50-ton model. With optional materials to meet code and numerous accessories available, including a foot pump, electrical pump or a battery operated pump, these iron horse testers are sure to meet all your bend and pull tensile testing equipment needs, including ductility tests, tension tests and qualitative tests.

Sawyer's line of weld test equipment is known for durability and reliability, and the 50-Ton and 25-Ton Guided iron horse testers are absolutely bullet proof. Offering improved plating and powder coating for corrosion resistance, they will stand the test of time, and with high level indicator gauges, two speed manual pumps, pulling jaws, steel carrying cases, and .375 (3/8") ASME die and plunger sets that come standard, these pieces of portable destructive weld testing equipment offer the ability to safely perform guided bend and pull testing with a high level of mobility and versatility.
For the best in weld inspection and weld certification testers, look no further than Sawyer's destructive weld testing equipment.