Welding Grasshopper
Despite a robust lineup of products worthy of praise and admiration, from internal and external clamps to weld testing and beveling equipment, Sawyer is constantly seeking new and innovative product designs along with updates to current products. This innovation and improvement is done, in part, through quality communication and collaboration with customers and end users.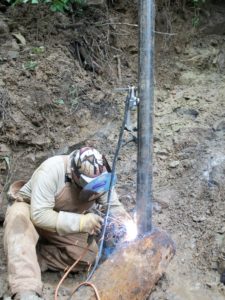 A collaboration
A perfect example of this collaboration is the creation of Sawyer's Welding Grasshopper, which began as a concept developed by Charles Hicks, who is a rig welder from West Virginia. He introduced the idea of providing rig welders with a faster and more dependable method of securing a ground to the pipe for welding, and through a collaborative effort from conception to production, with feedback from welders in the field aiding in improvements before launch, the Welding Grasshopper was born.
"I just want to make something that might help welders solve an issue that has been a sore spot for years," said Hicks
Solving Arc Burn
The Welding Grasshopper grounding device is the fastest and most dependable method of securing a welding ground to the pipe to prevent arc burn and weld rejection/failure without the need for hazardous bungees. With this brilliantly engineered welder tool, a grounding clamp grips a specially designed grounding bolt to prevent arcing, while nylon-insulated magnets further prevent the risk and limit the stretching or slacking that may occur with other grounding device attachment methods
Designing the Grasshopper
When it comes to welding ground devices, simplicity, usability, and durability are paramount, and the Welding Grasshopper has those traits in spades. Designed to quickly and securely attach to pipe, vertically or horizontally, the sleek engineering of the Grasshopper welder tool aids in its ease of use. The precision cast aluminum and steel design provides rugged strength while being as light as possible to prevent fatigue. Weighing less than 2 pounds and measuring merely 10 inches long, the Grasshopper welding ground provides ultimate portability and safety.

Sawyer's engineers ergonomically designed the Grasshopper welding tool to allow quick, simple placement and removal from the pipe, and the main pin of this welder tool makes brother-in-law welding on large diameter pipe possible by allowing multiple welders to use the same grounding device.
For a fast and dependable grounding device for improved welding and the prevention of arc burn, the Grasshopper from Sawyer Manufacturing is the ideal choice.