Excalibur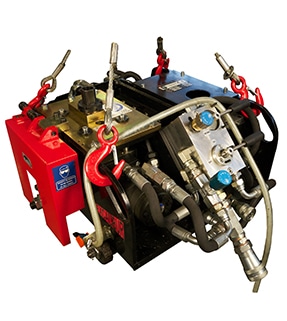 If there is one theme that encapsulates Sawyer Manufacturing's spirit and culture, it might have to be the company's never-ending quest to add and improve products and services to better serve customers. To that end, Sawyer's already stacked lineup of cutting and beveling machines, including the Quick Set, Compact, and Band Beveling Machines, now has a new member: the Excalibur Pipe Cutting and Beveling Machine.
Available in Hydraulic-, Pneumatic-, or Electric-driven options, the Excalibur machines will cut and bevel most machinable materials, including carbon steel, stainless steel, ductile iron, cast iron, and most other alloys without spark or flame. The Excalibur's ability to cut pipe wall up to 2″ (50 mm), bevel high tensile stainless steel pipes, and work in the most extreme temperatures makes it the superior no-spark cutting and beveling solution.

The Excalibur is equipped with a two-speed drive gearbox, which provides positive movement of the machine around the pipe in all kinds of pipe cutting conditions. No out-of-round compensation is needed, as the machine follows the pipe's outside diameter, producing an even and consistent cut. The drive chain can be shortened or lengthened to accommodate pipes from as small as 6″ up to 5-meter diameter vessels and beyond.
Able to work on site, off shore, in the field or even underwater with corrosion proofing, the Excalibur provides a versatile solution for almost all cutting and beveling applications.