Sawyer improves the Ratchet Clamp
Ratchet Clamp, Model 255
Sawyer Manufacturing Company has redesigned its Ratchet Clamp with a lower profile to allow better access to the butt join, helping welders effectively and quickly align and weld pipe.
The ratchet mechanism was also improved with a built-in handle and enclosed threads to protect against dirt and weld splatter, all while retaining the true double ratchet feature that allows for quicker closure on the pipe to increase speed and performance. This mechanism permits the clamp to align pipe quicker than any other ratchet clamp on the market.
The Ratchet Clamp is built with a focus on speed and accuracy. This 10-ton ratchet will deliver precision and rugged durability with ease. The clamp is designed with an open bridgework to allow full 360-degree welding, ensuring a quality weld, and the machined headrings are precision bored for consistent and accurate fit up. Also, the Ratchet Clamp's new yellow color provides high visibility and improved safety.
 Improvements in the manufacturing process have allowed Sawyer Mfg. Co. to offer a price that is even more competitive. "There are a lot of clamps out there," said Dave Hembree, Sawyer Manufacturing Vice President. "I believe our customers will be pleasantly surprised by the small but important changes we made with this clamp."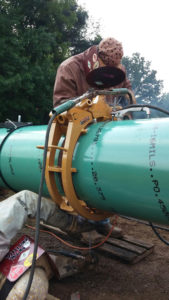 Sawyer Mfg. Co. has been an innovative world leader in the manufacture and design of welding and pipeline equipment since 1948. Equipment is designed, engineered and manufactured in the company's new facility in Tulsa. Sawyer equipment has become an industry standard and continues to set the benchmark for quality and durability. Improving standards and performance in the field is a fundamental aspect of the company's approach. Sawyer continually seeks to provide craftsmen with the tools necessary to get the job done and get it done right.
Sawyer equipment is used worldwide in the construction and maintenance of pipeline, waste water and sewer lines, marine and offshore applications, gathering and distribution systems, and other welding and pipeline applications.
Sawyer products are sold exclusively through distributors in the U.S. and abroad. Please call 1-877-730-9149 or email info@sawyermfg.com for the name of your nearest Sawyer distributor.
Published in World Pipelines.