Spotlight: Sawyer Services
Recently, Sawyer Mfg. launched Sawyer Services, an entirely new endeavor to further its aim of constantly adding new value to its offerings. This new endeavor is the company's expanded line of Services and Solutions. Sawyer has long been known for its high quality manufacturing abilities and the resulting products, but now, those skills, abilities and years of experience will be put to even greater use through custom fabrication services, machining services, painting and blasting services, and assembly services.

When looking for a metal fabrication partner, the criteria should always include finding a fabricator that can handle every facet of your job from beginning to end. The people at Sawyer have the experience, expertise, and industrious spirit to meet any job requirement. Their custom metal and steel fabrication abilities are second to none due to their culture of hard working creativity coupled with skilled capabilities.
The Sawyer staff includes a certified weld inspector and nine expert welders with more than 200 years of combined experience who can weld to meet ASME and AWS D1 code requirements. The proven techniques used by these skilled craftsmen produce consistent, reliable results from the simplest fabrication jobs to large heavy weld projects constructed and completed to customer supplied designs and requirements.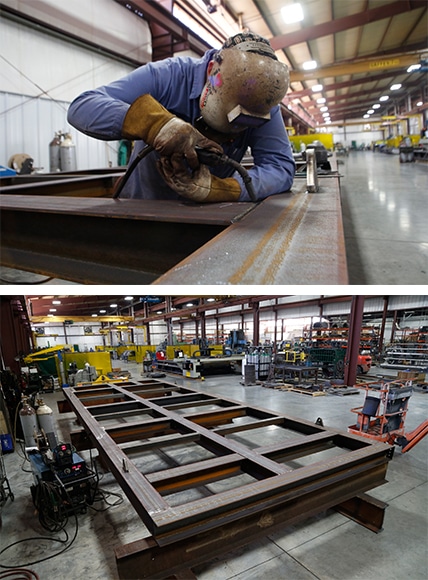 For custom metal fabrication from a single part to several pieces using your material or ours, look no further than Sawyer Manufacturing.
Sawyer may be new to offering these expanded services, but the company certainly isn't new to going above and beyond to please and accommodate its customers. To that end, they are continually adding to and upgrading their equipment and capabilities, so feel free to contact a Sawyer representative today about your needs. Even if you just have a rough idea, they will work with you to solidify it into a genuine concept, and if Sawyer is currently unable to complete a task within their own facility, they have a trusted group of vendors who will definitely be able to satisfy your needs. When you partner with Sawyer, your success is their success.
Quite simply, Sawyer just makes it work.  That's the Sawyer difference.