Certified welders, using:
Shielded Metal Arc Welding (SMAW)
Gas Tungsten Arc Welding (GTAW)
Gas Metal Arc Welding (GMAW)
Submerged Arc Welding (SAW)
Burn Table Capacity: 10'x'30'

Burn Capacity: 10

Sawing Capacity: 13

Rolling Capacity: 1/4
Sawyer Fabrication Services
You want a metal fabrication partner that can handle every facet of your job from beginning to end. The people at Sawyer have the experience, expertise, and industrious spirit to meet any job requirement. Our custom metal and steel fabrication abilities are second to none due to our culture of hard working creativity coupled with our skilled capabilities.
Our staff at Sawyer includes a certified weld inspector and nine expert welders with more than 200 years of combined experience who can weld to meet ASME and AWS D1 code requirements. The proven techniques used by these skilled craftsmen produce consistent, reliable results from the simplest fabrication jobs to large heavy weld projects constructed and completed to customer supplied designs and requirements.
Our shop is officially certified by the American Society of Mechanical Engineers (ASME) and the National Board Inspection Code (NBIC) with R Stamp and U Stamp certifications. These certifications declare that we are capable of meeting ASME and NBIC standards for the fabrication, repair, and alteration of boilers, pressure vessels, and other pressure retaining items.
Our shop is equipped with large welding bays using SMAW, GTAW, GMAW, FCAW and SAW welding processes capable of meeting all medium and heavy weld fabrication needs. Our high-performance plasma system features a 10'X30' cutting table with HD plasma capabilities to pierce up to 1 ½" plate and 6" plate with oxy fuel. This exceptionally large cutting area reduces welds and seams and produces a superior finished product.
Most of our projects are fabricated from various grades of carbon steel, although our welders are experienced with other metals such as stainless steel, Cor-Ten steel, aluminum and specialty alloy steels.
From a single part to several pieces using your material or ours, look no further than Sawyer Manufacturing.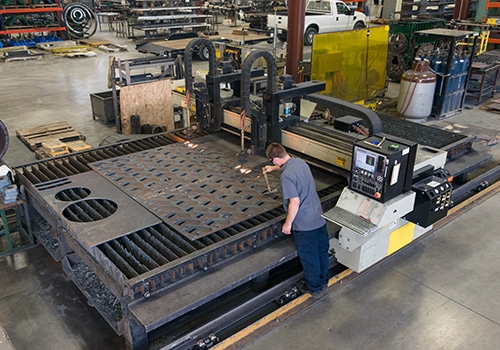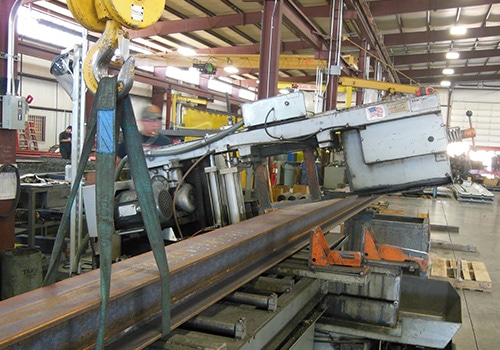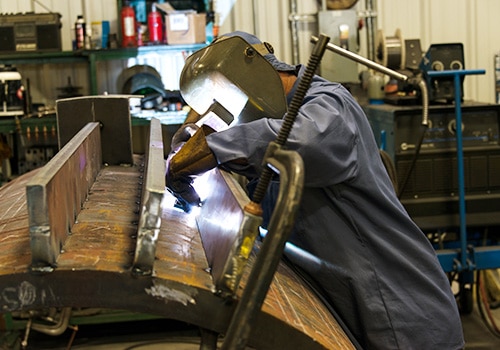 GENERAL CAPABILITIES
Custom
Large Industrial Fabrications
Skids
Complex Systems
Heavy
Structural
Industrial
15 Ton Lifting Capacity
54,000 sq. ft. manufacturing facility
34 acres laydown yard
FABRICATION METHOD
Cutting
Forming
Pressed
Rolling
Sawing
Welding
Assembly
Bending
Machining - CNC Machining
ADDITIONAL SERVICES
CORE CAPABILITIES
Machining
Assembly
Paint and Grit Blasting
SECONDARY SERVICES
Drafting and Engineering
Packaging and Marketing
Sourcing
International Exporting
ARC/RESISTANCE WELDING PROCESSES
Metal Inert Gas (MIG)
Tungsten Inert Gas (TIG)
Automatic Track (Seam)
Automatic Straight Line
Gas Tungsten Gas Metal Arc Welding (GMAW)
Shielded Metal Arc Welding (SMAW)
Flux Core Arc Welding (FCAW)
Cladding
Overlay
Spray
Stud
FABRICATION EQUIPMENT
Miller Welding Machines
Plasma Cutting Table
10 Ton Overhead Cranes
100 Ton Vertical Press
Band Saw
PRODUCTION VOLUME
Prototype
Small runs - Medium runs
MATERIALS
Steel - all carbon and alloy steels
Stainless Steel
Duplex Stainless Steel
Superaustenitic Stainless Steel
Hastelloy
Monel
Incoloy
Inconel
Aluminum
Bronze
Copper Nickel Alloys
Silver
Cast Iron
LEAD TIMES
5 days to 12 weeks depending on size
OXYGEN GAS WELDING
Air Acetylene Welding
Oxyacetylene Welding
Oxygen/Propane Welding
MATERIAL SIZES
Thickness: Thin gauge to 12 in.
Maximum Weight: up to 30,000 lbs.
Tolerance: Per print
Operator Stand

Burner

Skid

Project Description

Platform for Operation of Pipe Bending Machine

Raw Gas CRG Burner

Control System Skid 13' x 30'

Metal Fabrication Capabilities / Applied Processes

Saw
Fit
Weld: TIG, MIG, Flux-Core, ASME Code
Drill
Machine

Saw
Fit-up
Weld: Flux-Core, D1.1 Code

Equipment / Skills Used to Manufacture Part

Outside Vendors Used

Various Fitting Manufacturers

Overall Part Dimensions

Material Used

Testing / Inspection Performed

Hydro
Visual
Dye Penetrant
Dimensional

Industry for Use

Turnaround Time